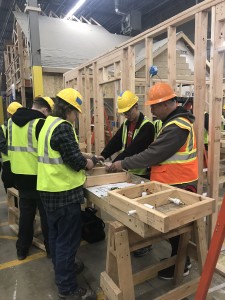 Seed Funding to Implement Program Provided by the Lennar Foundation
IRVINE, Calif., April 17, 2019 (Newswire.com) - ​​​​​​HomeAid America, a national nonprofit provider of housing and resources for the homeless, announces the launch of HomeAid WORKS, a workforce development program that will allow people experiencing homelessness the chance to pursue careers in the homebuilding industry. HomeAid WORKS is made possible by a $500,000 grant from the Lennar Foundation, the charitable arm of Lennar Corporation, provided as seed funding to create the new program.
HomeAid WORKS (Workforce Opportunities for Rebuilding through Knowledge and Skills) will provide technical construction training, education and job opportunities in the homebuilding industry for men, women, youth and veterans who are experiencing homelessness, at risk of homelessness or coming out of homelessness. The new program will be an extension of services provided through the organization's main housing development and community outreach programs.
"We are blown away by the generosity of the Lennar Foundation," said Peter Simons, CEO of HomeAid America. "The answer to ending homelessness is to provide the necessary housing, but it must be in conjunction with opportunities for ongoing work at a livable wage to create self-sufficiency. We will be able to use this funding to help move people from homelessness to having well-paying careers in homebuilding. It's a win-win-win for the homeless population we serve, the building industry that supports us and the communities we operate in."
HomeAid's program identifies nonprofits working to help the homeless and builds additional housing facilities on their behalf at a deep discount through the in-kind donations of builders, their trades and suppliers. These cost savings are reinvested into life-changing programs such as job and life skills training, financial counseling and physical and emotional support. HomeAid WORKS will further expand the options available to residents as they work towards self-sufficiency. Job loss and the lack of affordable housing are two leading causes of homelessness, so giving those facing these challenges the chance to learn skills that can provide secure, well-paying jobs is critical to escaping the cycle of homelessness.
The Bureau of Labor Statistics states there are over seven million construction jobs currently available, marking the highest employment level for the industry in a decade, however, nationwide the homebuilding industry is impacted by a significant shortage of trained laborers. According to the National Association of Home Builders, 87 percent of home builders stated finding workers to be a problem in 2017, compared to 13 percent in 2011.
With job vacancy at its highest in a decade and people in need of work opportunities to advance their careers and earning potential, HomeAid will collaborate with partner nonprofits providing services to the homeless and connect them to training opportunities to learn skills such as framing, drywall, concrete, plumbing, electrical and carpentry and place them in a construction career after successful completion of the program.
The HomeAid WORKS program will be kicked off at a recruitment luncheon in Denver, the pilot market for the program, at the Colorado Homebuilding Academy on April 17. After Denver, three other HomeAid markets and will be rolled out this year and will be announced shortly.
Support from the Lennar Foundation comes at a pivotal time as HomeAid enters into its 30th anniversary and celebrates the success of completing over 560 projects that have housed more than 335,000 people who would have otherwise been homeless. Through the HomeAid model, more than $230 million of housing has been developed with a cost savings of over $120 million.
About HomeAid America
HomeAid, founded in Southern California in 1989, is a nonprofit provider of housing and resources for the homeless that operates through a network of 18 chapters in 12 states. Celebrating "30 Years of Building the Way Home," HomeAid has completed over 560 housing projects with a value of more than $230 million, of which nearly 50 percent was donated by the building industry. HomeAid has added over 10,500 beds that have housed over 327,000 previously homeless individuals. For more information about HomeAid, call 1-888-3HOMEAID or visit www.homeaid.org.
About The Lennar Foundation
The Lennar Foundation was created in 1989 as the vehicle for Lennar to give back to the communities in which Lennar does business. The Lennar Foundation supports underserved children, education, homeless rehabilitation, medical research and the elderly.
Source: HomeAid America
Share: