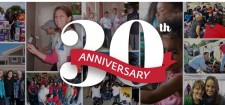 Nonprofit Organization Has Housed Over 335,000 People Experiencing Homelessness in Its History
IRVINE, Calif., July 2, 2019 (Newswire.com) - ​HomeAid, one of the nation's largest providers of housing and resources for the homeless, has reached its 30th-anniversary milestone. Over that period, HomeAid's homeless housing development and community outreach programs have housed over 335,000 people experiencing homelessness across the country and conducted countless hours of community outreach.
"Our 30th anniversary is a major accomplishment to celebrate," said Peter Simons, CEO of HomeAid America. "In those 30 years of the building industry giving back through its work with HomeAid, we not only have housed 335,000 people — and counting — but we have actually served closer to a million people with our programs and outreach. It is something all those affiliated with HomeAid should be proud of."
HomeAid offers a unique and cost-effective approach to addressing the national housing crisis. According to the National Law Center on Homelessness, each year, over 3.5 million Americans will experience homelessness at some point, with nearly 1.5 million of them being children. HomeAid's program identifies charities in the community working to help the homeless that need additional facilities in which to house people and provide programmatic resources such as job skills training and financial counseling, as well as physical and emotional support. As a building industry charity of choice, HomeAid then finds builders who are willing to take on these projects and build them at a deep discount by enlisting their trade partners to give their time and materials as in-kind donations.
HomeAid was started back in 1989 as a program of the Building Industry Association of Orange County, which wanted to find a singular cause that its local builders and partners could focus their philanthropic efforts on to make a significant difference in the communities they lived in. It was a big success right from the start and a few years later, the decision was made to expand the model nationwide. That also proved extremely successful and today, HomeAid has 19 chapters in 13 states from Hawaii to the East Coast, all making a major contribution towards solving the homelessness issue in their communities.
Ever since, HomeAid's network of chapters has been successfully addressing homelessness and providing critical supportive housing across the country. The organization has completed over 560 projects that have housed more than 335,000 people who would have otherwise been homeless. Through the HomeAid model, more than $240 million of housing has been developed with a cost savings of over $125 million. This year, HomeAid has more than 60 housing projects currently in development that will add more than 1,300 beds for those in need. In addition to providing the needed housing to provide safety and comfort, residents will receive supportive services such as counseling, transportation access, employment training and financial education.
The organization's accomplishments are recognized by the following generous 30th Anniversary Building the Way Home partners: Taylor Morrison, Delta Faucet, Lifescapes International, Fidelity National Title Group, First American Title, and Adrienne and Scott Stowell. These sponsors have been long-time supporters of HomeAid's mission to build new lives for those experiencing homelessness and their contributions will enable the future success of the organization in maximizing the impact of those HomeAid serves.
Source: HomeAid America
Share: