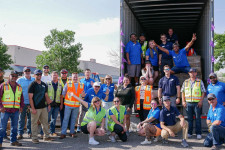 Two Million Diapers and Two Million Wipes Will Be Distributed
DENVER, April 20, 2023 (Newswire.com) - Before COVID-19, one in three U.S. families could not afford diapers. The pandemic's resulting impact on American job security, increased cost of living, and growing inflation have only exacerbated this need as diaper banks struggle to keep up. With skyrocketing demand, HomeAid Colorado has begun its annual Builders for Babies Diaper Drive.
"Coming a long way since collecting 18,000 diapers in 2015, this event has grown as the building industry has embraced the need for diapers and found a way to help struggling families across the state," said Cindy Bell, Executive Director of HomeAid Colorado. "We are thankful for the construction community's generosity that secured over two-and-a-half million diapers and two million wipes last year, providing the next generation of Coloradans with basic living necessities." Now through May 19, people can donate through an online landing page to help HomeAid Colorado reach its goal of distributing two million diapers and two million wipes to 49 service providers across Colorado.
Over 38% of Colorado infants and toddlers don't have access to clean diapers. The demand for diapers increased by as much as 300% during the pandemic but there are still no state or federal programs that cover the cost of diapers. Disposable diapers are required at most childcare facilities and cloth diapers are not an option for low-income families as they often don't own washing machines and washing soiled diapers is prohibited at most laundromats. Nationally, 57% of caregivers experiencing diaper needs said they missed an average of four days of school or work a month because they couldn't afford diapers.
It costs about $1,000 per year to buy a supply of average-priced diapers for one child. For someone who works a full-time minimum-wage job, making just over $15,000 a year, that's a huge expense. When a caregiver can't afford diapers, children are sitting in unsanitary conditions for extended periods of time — placing children at a higher risk of infection and emotional trauma. It can also negatively affect the mental and emotional health of parents, leading to difficulty in coping with stress, depression, and trauma.
A young, single father of a six-month-old and a one-and-a-half-year-old has struggled with acquiring this basic need. Before receiving diapers through Volunteers of America, a Builders for Babies diaper recipient, he had to resort to stealing. He was forced to use diapers that were too small for his child and diapers that were too large for his baby. His children have gone without diapers and he has had to wash their bottoms in the bathtub repeatedly during the day when he is out of wipes. He is only one example of how dire the diaper situation can be for struggling families.
For critics who say these efforts are "just another handout to people who don't want to work," HomeAid Colorado disagrees. Clean diapers can put struggling parents back into the workforce. Without clean diapers, babies can't go to subsidized childcare, and without childcare, parents can't go to work. Diapers can change that.
With the significant inflation of recent months, especially in the cost of housing, food, and fuel, the families Sharing with Sheridan Food Pantry serves are struggling even more than last year. Nothing elicits a "Thank you" or "God bless you" from guests more than when it has diapers available.
About HomeAid Colorado
HomeAid Colorado attacks the reality of homelessness with a unique and collaborative approach. Through housing development and community engagement, and education, our mission is to help those experiencing or at risk of homelessness build new lives. In addition to donating diapers, hygiene items, and basic home essentials to nonprofits, HomeAid Colorado is a vital force in creating safe and dignified housing and programmatic facilities for care providers in our state.
Source: HomeAid Colorado
Share: