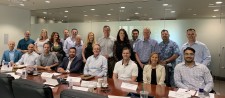 HomeAid America Establishes New Chapter in Phoenix
PHOENIX, November 5, 2019 (Newswire.com) - ​​​​​​​​​​An estimated 6,300 people experience homelessness on any given night across the Valley, according to the Department of Housing and Urban Development. HomeAid America, a national nonprofit provider of housing and resources for people experiencing homelessness, launched its 19th chapter in Phoenix in partnership with the Valley's leading home builders. HomeAid Phoenix will work with the local home building industry to develop, build and maintain housing for local nonprofits serving those experiencing homelessness.
"The HomeAid partnership model has a proven track record in communities across America, and we are excited by the launch of our Phoenix chapter," said Scott Larson, CEO of HomeAid America. "Key to the success of HomeAid is a strong focus on building collaborative relationships and being highly responsive to local needs."
HomeAid works with reputable and impactful nonprofit organizations that are in need of additional capacity to provide housing, resources and services to people experiencing homelessness. HomeAid connects these nonprofits with building industry partners, who donate their time, materials and labor to rehabilitate and build new spaces to serve homeless families and individuals.
"The root causes of homelessness are complex and often overlapping," said Sam Leyvas, Executive Director of HomeAid Phoenix. "Solutions work when the approach is varied, comprehensive and built on innovative community partnerships. HomeAid Phoenix is ready to be a part of the hard work of addressing homelessness in the Valley."
Bringing HomeAid's homeless housing development and community outreach programs to Phoenix was made possible by a grant from HomeAid America and philanthropic investments from leading local and national home builders, including: Taylor Morrison, The New Home Company, Shea Homes, Pulte Homes, Lennar Homes, K. Hovnanian Homes, Ashton Woods Homes, Beazer Homes, Landsea Homes, Mattamy Homes, Richmond American Homes, Maracay Homes, Woodside Homes and Brookfield Residential.
As part of HomeAid's national network of chapters, HomeAid Phoenix will have the resources needed to obtain donated building products for its charitable projects. It will also have access to national technical assistance, a deep network of chapter resources, and a myriad of other supports.
"As home builders, it should come as no surprise that we believe everyone deserves a safe, stable and dignified place to call home," said Brad Schoenberg, HomeAid Phoenix's newly elected Board President and Taylor Morrison's Phoenix Division President. "HomeAid Phoenix is a more direct opportunity for our industry to come together to help provide housing and improve the lives of those in our community experiencing homelessness."
About HomeAid
HomeAid is a nonprofit provider of housing and resources for the homeless that operates through a network of 19 chapters. Celebrating 30 years, HomeAid has completed over 850 housing projects with a value of $230 million, of which nearly 50 percent was donated by the building industry. HomeAid has added over 10,500 beds that have housed over 330,000 people. For more information visit www.homeaid.org.
Source: HomeAid America
Share: