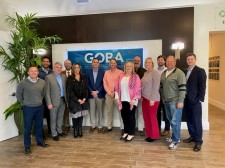 HomeAid America Establishes New Chapter in Orlando to Build Housing and Provide Resources to Those Experiencing Homelessness
ORLANDO, Fla., January 29, 2020 (Newswire.com) - ​​​An estimated 28,591 people experience homelessness on any given night across the state of Florida, according to the Department of Housing and Urban Development. HomeAid America, a national nonprofit provider of housing and resources for people experiencing homelessness, launched its 20th chapter in the United States in Orlando in partnership with the Greater Orlando Builders Association. HomeAid Orlando will work with the local homebuilding industry to develop, build and maintain housing for local nonprofits serving those experiencing homelessness.
"We are very excited to bring HomeAid's mission of ending homelessness to Central Florida and work with an incredible group of building industry leaders to address homelessness in the greater Orlando area," said Scott Larson, CEO of HomeAid America. "The opportunity to bring in the residential building industry to work alongside both nonprofit organizations and local government will have great success in providing direct tangible solutions for those in need of housing."
HomeAid works directly with impactful local community-based organizations that are in need of additional capacity to provide the housing, resources and services to end homelessness. HomeAid accomplishes this by delivering design, engineering, construction and building material resources through its industry partners, who donate their time, materials and labor to rehabilitate and build new spaces to serve families and individuals experiencing homelessness.
"The homebuilding community in Central Florida is strong, diverse, and community focused," said Russ Beymer, Executive Director of HomeAid Orlando. "Practically every day, the news tells us about the rampant needs of those experiencing homelessness in our hometown. HomeAid Orlando is ready to unite the Greater Orlando Builders Association members with the service provider networks working to solve these vital issues."
Bringing HomeAid's homeless housing development and community outreach programs to Orlando was made possible by a grant from HomeAid America and philanthropic investments from leading local and national companies, including: Taylor Morrison, First American Title, Starlight Homes, an Ashton Woods Company, Builders FirstSource, Park Square Homes, Inspired Mortgage (TM Finance), James Hardie, K. Hovnanian Homes, LoanDepot, Meyers Research/Metrostudy, Richmond American Homes, and Toll Brothers.
As part of HomeAid's national network of chapters, HomeAid Orlando will have the resources needed to obtain donated building products for its charitable projects. It will also have access to national technical assistance, a deep network of chapter resources, and a myriad of other supports.
"As home builders, it should come as no surprise that we believe everyone deserves a safe, stable and dignified place to call home," said Brian Brunhofer, HomeAid Orlando's newly elected Board President and Taylor Morrison's Orlando Division President. "HomeAid is a more direct opportunity for our industry to come together to help provide housing and improve the lives of those in our community experiencing homelessness."
About HomeAid America
Founded in 1989, HomeAid is a national nonprofit developer of housing and resources for those experiencing homelessness that operates through a network of 20 chapters in 14 states. Celebrating "30 Years of Building the Way Home" HomeAid has completed over 900 housing projects with a value of more than $230 million, of which nearly 50 percent was donated by the building industry. HomeAid has added over 10,500 beds that have housed over 365,000 previously homeless individuals. For more information visit www.homeaid.org.
Source: HomeAid America
Share: