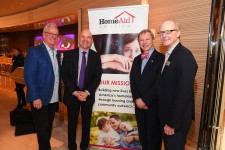 National Housing Outlook Event Provides Funds to Fight Homelessness
IRVINE, Calif., March 1, 2019 (Newswire.com) - HomeAid America, one of the nation's largest providers of housing and resources for the homeless, was a beneficiary of the generosity of Meyers Research, one of its top national partners and leading market research firms, at Meyers' National Housing Outlook that was held in Las Vegas during the International Builders Show on Feb. 20. The event raised over $55,000 for the charity.
The building industry event with nearly 200 in attendance, featured industry leaders as panelists including a Builder Panel moderated by Tim Sullivan, Managing Principal at Meyers Research that included Linda Mamet, VP of Corporate Marketing at TRI Pointe Group, Sandra Teeter, Division President-San Antonio at Liberty Home Builders, Nicole Murray, Division President – Southern California at Taylor Morrison and Nicole Bloom, Division President – Las Vegas at Richmond American Homes. Attendees also got a comprehensive economic overview from Frank Nothaft, Chief Economist of CoreLogic and a Consumer Trends Report presented by Mollie Carmichael, Principal at Meyers Research.
Meyers Research has been holding housing forecast events to benefit HomeAid America across the country for the past five years, and after this, their thirteenth such event has now raised over $627,000 for HomeAid. Support from Meyers Research continues at a pivotal time as HomeAid enters into its 30th anniversary and celebrates the success of completing over 550 projects that have housed 327,000 people who would have otherwise been homeless. Jeff Meyers, CEO of Hanley Wood, Meyers Research and Metrostudy, said, "It is a privilege for us to join HomeAid in their efforts to eradicate homelessness across the country. We are committed to addressing the crisis of homelessness in the United States, and we look forward to working with them for years to come."
HomeAid America CEO Peter Simons said, "Meyers Research once again did an incredible job of holding an event that was productive for the attendees while giving our charity vitally needed funding as we enter our 30th Anniversary fighting to end homelessness in this country. Jeff Meyers and his team have been reliable and compassionate partners of HomeAid for several years now, and we value that support more than words can say."
HomeAid's program identifies charities working to help the homeless that are in need of additional facilities in which to house people. HomeAid's builder captains and their partners and suppliers take on these projects, completing them at a deep discount through the in-kind donation of their time and materials. Through the HomeAid model, more than $230 million of housing has been developed with a cost savings of over $120 million. These cost-savings are reinvesting into life-changing programs such as job and life skills training, financial counseling, and physical and emotional support needed to get back on their feet.
Proceeds were generated by ticket sales and sponsorships by Environmental Stoneworks, Housing Capital Company, a subsidiary of U.S. Bank, loanDepot, Bassenian Lagoni, BrightView, Builders First Source, Caliber Home Loans, Delta Faucet, First American Title Company, Fidelity National Title Group, and GE Appliances.
About HomeAid America
HomeAid, founded in Southern California in 1989, is a nonprofit provider of housing and resources for the homeless that operates through a network of 19 chapters in 13 states. Celebrating "30 Years of Building the Way Home," HomeAid has completed over 550 housing projects with a value of more than $230 million, of which nearly 50 percent was donated by the building industry. HomeAid has added over 10,500 beds that have housed over 327,000 previously homeless individuals. For more information about HomeAid, call 1-888-3HOMEAID or visit www.homeaid.org.
About Meyers Research
Meyers Research, a Kennedy Wilson Company, is the housing industry's leading provider of rich data for residential real estate development and new home construction and a leading Advisor to the real estate development industry. Headquartered in Costa Mesa, CA, the company has developed an innovative Zonda iPad application geared for homebuilders, multifamily developers, lenders, and financial institutions to analyze the latest housing market trends and inform the strategic thinking behind its premier consulting practice.
About Hanley Wood
Hanley Wood is the premier company serving the information, media, and marketing needs of the residential, commercial design and construction industry. Utilizing the largest analytics and editorially driven Construction Industry Database – powered by Metrostudy - the company provides business intelligence and data-driven services. The company produces award-winning media, high-profile executive events, and strategic marketing solutions. To learn more, visit hanleywood.com.
Source: HomeAid America
Share: