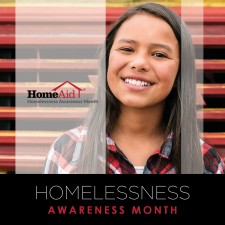 A month-long campaign to raise awareness and fight homelessness
IRVINE, Calif., November 1, 2019 (Newswire.com) - ​​​​​​​HomeAid America, a nonprofit organization and one of the nation's largest providers of housing and resources for people experiencing homelessness, launches Homelessness Awareness Month, an annual campaign held every November to increase awareness about the issues of homelessness.
According to the National Law Center on Homelessness, every year alone over 3.5 million Americans experience homelessness, and well over 1 million of them are children. The causes of homelessness are many, including job loss, lack of affordable housing, medical crisis, domestic abuse, and post-traumatic stress disorder in veterans. It is estimated that 85% of people experiencing homelessness are only situational and can be moved back to self-sufficiency.
"HomeAid's Homelessness Awareness Month is a time to learn about your neighbors experiencing homelessness, have a genuine discussion about solutions and provide opportunities to take action to provide safe, dignified housing and support services needed to rebuild lives," said Scott Larson, CEO of HomeAid America, whose mission is to end homelessness through housing, outreach and advocacy.
Most of HomeAid's 19 chapters are expected to participate in the month-long effort. Some of the specific events and activities that are planned for the month include:
Nov. 1--HA Sacramento Spread the Warmth Blanket Drive begins
Nov. 1--HA Orange County Thanksgiving Basket Drive begins
Nov. 1--HA Houston HALO Luncheon
Nov. 1--HA Houston Thanksgiving Basket Drive & Assembly
Nov. 1--HA Colorado Operation Stand Down & CareKit Drive
Nov. 4--HA Northern California Warm Essentials Drive
Nov. 6--HA Orange County Alteryx Community Care Day at the Family CareCenter
Nov. 7--HA Inland Empire Champions Breakfast
​Nov. 7--HA Northern California Pass Toy Drive
​Nov. 9--HA Northern Virginia 17th Annual Gala & Auction
​Nov. 11--HA Orange County Golf Tournament
​Nov. 11--HA Phoenix Share the Warmth Essentials drive
​Nov. 14--HA Twin Cities Give to the Max Day
​Nov. 16--HA Houston Care Day
​Nov. 17--HA Orange County Thanksgiving Basket Assembly
​Nov. 22--HA Austin Homecoming Event
​Nov. 22--HA Portland Builders Ball
To learn more about HomeAid's mission, Homelessness Awareness Month and to see a complete list of activities, please visit homeaid.org/homelessnessawarenessmonth.
About HomeAid
​HomeAid, founded in Southern California in 1989, is a nonprofit provider of housing and resources for people experiencing homelessness that operates through a network of 19 chapters nationwide. Celebrating "30 Years of Building the Way Home," HomeAid has completed over 850 housing projects with a value of more than $230 million, of which, nearly 50 percent was donated by the building industry. HomeAid has added over 10,500 beds that have housed over 325,000 previously homeless individuals. For more information, visit www.homeaid.org.
Source: HomeAid America
Share: