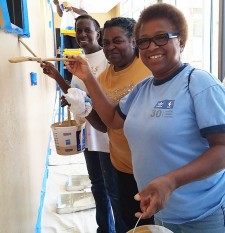 Gold Level National Partnership will support Homeless Housing Development Program
NEWPORT BEACH, Calif., May 10, 2018 (Newswire.com) - HomeAid America, a leading national provider of housing for the homeless, today announced that Sherwin-Williams, a national leader in the paints and coatings industry, will join HomeAid as a Gold Level National Partner. Dedicated to enhancing the communities where it operates, Sherwin-Williams will contribute $50,000 to assist HomeAid in the fight against homelessness across the country.
HomeAid identifies charities working to help homeless families and individuals that are in need of additional or upgraded facilities in which to house people. HomeAid's builder captains and their trade partners and suppliers take on these projects, completing them at a deep discount through the in-kind donation of their time and materials, while the service providers offer programmatic resources, such as job and life skills training, financial counseling, and physical and emotional support needed to get back on their feet.
"HomeAid is exactly the type of organization that Sherwin-Williams is proud to stand behind," said John Morikis, Chairman, President and CEO of The Sherwin-Williams Company. "Their mission to connect homeless families and individuals with safe and accessible housing aligns with our Company's values and philanthropic priorities." Michael Robidoux, Vice President – National Accounts of The Sherwin-Williams Company will join HomeAid America's Board of Directors.
"Sherwin-Williams has been very supportive of HomeAid in recent years, providing paint for many of our chapters' shelter projects," said Peter Simons, CEO of HomeAid America. "Now by joining us as a national partner, they will be spreading this support across the country as well as providing more opportunities for local involvement across the nation. We are deeply grateful for this commitment."
Sherwin-Williams is currently very active with HomeAid's chapters in Atlanta, Houston and Colorado, generously lending financial and in-kind product support on an on-going basis. Recently, HomeAid Portland also received donated paint and supplies to complete a mural for a shelter serving homeless single-parent families. Later this month, HomeAid Sacramento will participate in Sherwin-Williams' National Painting Week. On May 30, Sherwin-Williams employees will give back to refresh Sacramento's project for Volunteers of America's Mather Campus, showing what a big difference a simple coat of paint can make.
About HomeAid America
HomeAid is a leading national nonprofit provider of housing for the homeless. Through its network of 18 chapters in 12 states, HomeAid has completed over 500 housing projects that have sheltered over 300,000 previously homeless people. Through the generosity of builders, their trades and suppliers, HomeAid has added over $230 million of housing for the homeless, of which nearly 50 percent has been donated. HomeAid currently has over 60 projects in development across the country. For more information, visit www.homeaid.org. Join HomeAid on Facebook, Twitter and Instagram.
About Sherwin-Williams
For more than 150 years, Sherwin-Williams has been an industry leader in the development of technologically advanced paint and coatings. As the nation's largest specialty retailer of paint and painting supplies, Sherwin-Williams is dedicated to supporting both do-it-yourselfers and painting professionals with exceptional and exclusive products, resources to make confident color selections and expert, personalized service at its more than 4,200 neighborhood stores across North America. For more information, visit sherwin-williams.com. Join Sherwin-Williams on Facebook, Twitter, Pinterest and Instagram.
Media Contact:
Amanda Genakos
(303) 489-2721
agenakos@homeaid.org
Source: HomeAid America
Share: